Meet our Professional Team
Meet our professional team
This website is a sister concern of Nepal Trekking Tourism & Adventure P.LTD. NETTA is a professional trekking, touring, and climbing local agent in Nepal and has served more than 15,000+ clients in the last 25 years. You can find more details about the official documents of NETTA online. We are specialized local trekking agents in Nepal for deluxe and luxury tours, treks, and climbing expeditions in Nepal, Tibet, and Bhutan.
Born and raised in Solukhumbu, on the lap of Mount Everest, Pasang Sherpa has been team leader, senior travel consultant and president of Nepaltrekkingtours.com since 1997. Pasang began his career in Nepal tourism as a porter in 1995, as a trekking and mountain guide from 1997 to 2007, and as a professional trekking, tour, and expedition operator since 2001,after graduating in business studies. Pasang Sherpa has been guiding treks and expeditions in most of all the trekking areas of Nepal and has travelled over 28 countries, including Kilimanjaro, as the first seven summits in December 2019. All of his travel experiences in Nepal's trekking and countryside, as well as travel to foreign countries, have made him a highly professional tourism entrepreneur and expert travel consultant in terms of best-customized treks and climbing itineraries for the best holiday experience with his professional guidance.
Pasang Sherpa looks after all correspondence of clients' inquiries and designs the best trekking, tour, and expedition packages for truly a trip of a lifetime experience.To operate professional trekking and travel services, he has been supported by 15 professional trekking, tour, and climbing sherpa guides as well as a seven-member office management team at his company.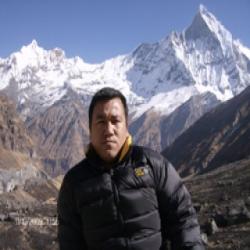 Pasang Sherpa
Managing Director & Senior Travel Consultant
Born in the Solukhumbu district of Nepal, on the lap of Mount Everest, Pasang Sherpa started his journey in the field of Nepalese tourism in October 1995. He first went on the Gokyo-Everest base camp trek as a porter to learn about the areas at the young age of 17. In 1998, he became a professional licensed trekking guide in Nepal, and in 2002, he obtained his license as a tourist guide. With a Master's level education in business studies, Pasang started his first trekking and expedition company in 2002. Nepal Trekking Tourism & Adventure( NETTA) is his second company registered in 2012, and he is the managing director and senior travel consultant of this company. Pasang sherpa has widely visited most of Nepal's famous trekking destinations: Langtang national park, Everest national park, Annapurna, Mustang.
Pasang Sherpa is an adventure traveler and has already climbed mountains in Nepal as well as the highest mountain in Africa, Kilimanjaro, on December 25, 2019. He has already traveled to more than 28 different countries in the world to understand the quality of tourism in different countries he has visited. Pasang has already been to Tibet and Bhutan and operates treks, tours, and expeditions in the Himalayan countries where Pasang has already been. Serving the best trekking tour services to valuable clients is our main objective as a company.